This guest post is from Ceci Amodor and was originally published here.
Technology has transformed the way people work, including where and when they work from. With new collaboration tools and platforms emerging every day and new virtual office technologies that facilitate communications, it's no surprise that remote workers are on the rise. In fact, a Gallup survey found that from 2012 to 2016 the number of people working remotely rose from 39% to 43%. Since then, that number has likely increased significantly.
Some industries and companies have embraced this new way of work and lead successful remote teams. Professionals work remotely for a variety of reasons: more flexibility, better pay from a company that's not in their hometown, family requirements, and travel. Those who combine remote work and travel are known as digital nomads.
---
---
What is the digital nomad lifestyle?
Although many believe that remote workers are the same as digital nomads, this is not true. Both can work from anywhere, however the difference lies in that some remote workers work remotely from home, while digital nomads, like the name implies, are nomadic in nature; they move around from place to place.
---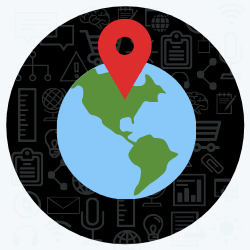 Do digital nomads need work visas?
It depends on where you're from, where you're going, and how long you are staying. Although you don't necessarily need a work visa, if you're staying for a long period of time in any given destination, you will likely have to apply for some sort of visa (in most cases a visitor or tourist visa).
Many countries, including Europe's Schengen countries, allow travelers to stay up to three months without a visa. Other countries offer a working holiday visa; this type of visa is offered under reciprocal agreements between countries, so again, it goes back to where you're from and where you want to go. Keep in mind that working holiday visas were created for young people, so most if not all, tend to have an age restriction.
List of countries that offer a working holiday visa:
Argentina
Australia
Austria
Belgium
Canada
Chile
China
Czech Republic
Denmark
Estonia
Finland
France
Germany
Hong Kong
Ireland
Israel
Italy
Japan
Latvia
Lithuania
Malta
The Netherlands
New Zealand
Norway
Poland
South Korea
Singapore
Slovakia
Slovenia
Spain
Sweden
Switzerland
Thailand
Turkey
UK
Uruguay
---
How to Become a Digital Nomad?
If you enjoy traveling and constantly experience a sense of wanderlust, becoming a digital nomad might be just right for you. However, before you book your next trip, there are some things you need to take care of first.
To become a digital nomad, the first step is to determine how much your income needs to be to support your digital nomad life and where that income will come from. We will talk more about this later. Then, you need to be aware that being a digital nomad requires skill and talent, but most importantly it requires that a person be disciplined, self-motivated, and accountable. You will also need to think about healthcare, travel insurance, banking and accounting (where will people pay you, can you use your cards abroad, are there any additional fees, etc.), housing, language, and technology. This last item is crucial to digital nomad success, technology is, afterall, what has enabled remote workers to be successful from anywhere.
---
Types of digital nomad careers
Even though most people think of self-employed individuals when they think about digital nomads, this isn't necessarily true. Digital nomads can be freelancers, entrepreneurs, contract workers, or even full-time employees. There are various companies out there that have fully remote teams (Buffer, Automattic, InVision, Zapier, Gitlab, Trello, and us at Alliance Virtual Offices).
Being a full-time employee for a company provides more stability to digital nomads, as their income won't vary from month to month, making it easier to plan. If, however, you are a freelancer, entrepreneur, or contractor, you need to determine how much money you need to earn each month and how you are going to earn it. Many freelancers and remote workers use the 80/20 principle to better plan their income; 80% of their income comes from one long-term client and 20% of it comes from small, short projects or contracts. This allows them to have some stability month after month as they know they will have some sort of income 80% of the time.
---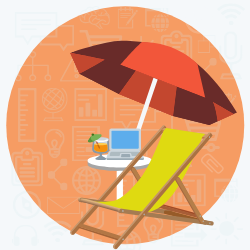 24 Jobs You can Do from Anywhere
If you're not sure where to start looking for remote work, here are some of the most common remote jobs.
Virtual  assistant
Programmer
Developer
Marketing
Freelance writer
Graphic designer
Sales
Customer support
SEO specialist
Systems Engineer
Business analyst
Digital marketing
Product designer
Translator
Transcriber
Medical transcriptionist
Social media manager
Web designer
Online teacher or tutor
Data entry
Quality assurance
Editor
Online advertising specialist
Travel agent
---
Remote Work Challenges
Although being a remote worker or digital nomad sounds like the dream life, there are challenges to this type of lifestyle. The number one challenge digital nomads face is isolation and loneliness; this is one of the main reasons why most remote workers typically join a coworking space.
The second challenge is overworking. Remote workers have a hard time disconnecting and the line between work and life tends be blurred or nonexistent. This can often lead to burnout, stress, and to an unhealthy lifestyle.
Another challenge is time management, especially when they need to account for different time zones. Although working with people in other time zones is possible, communication isn't' always timely and responses that should take only a moment end up taking a few hours. There's also the fact that remote workers have a hard time establishing and following a routine, this is especially the case with digital nomads that move around often and frequently.
---
Managing Remote Workers
If you are part of a remote team company, there are several steps you can take to make sure workers have a great company experience at all times.
Have a strong onboarding process.
Set clear expectations, timelines, and deadlines.
Engage regularly and communicate often (pro tip: try to have one on one time with all remote workers at least every other week).
Use video conferencing platforms and turn on the video.
Embrace emojis, gifs, and memes when communicating via chat or instant messaging.
Get together face to face at least once a year.
Use project management tools to keep everyone in the loop.
---
The Digital Nomad Lifestyle isn't for everyone!
Remote working is on the rise and it offers various benefits to professionals. However, this type of lifestyle is not suitable for everyone as it comes with its fair share of challenges.
If you want to try out being a digital nomad, start by choosing a destination you're familiar with or a country that speaks the same language; this will help you ease into the digital nomad life and give you a taste of what you can expect in different destinations.
Pro tip: try to stay at least a month in each location, this will give you enough time to settle in, establish a routine, and truly get to know a city or town.