The Washington State legislative session ended on April 28. It was a strong year for housing legislation, in no small part because of the work of dedicated advocates across the state making their voices heard in Olympia.
At Tech 4 Housing, we helped organize tech community community advocacy in three core policy areas: legalizing housing, investing in affordability, and protecting vulnerable communities. Taken together, reforms passed this year will move us closer to our vision of a tech boom that benefits everyone, where housing remains abundant and affordable as our economy grows.
LEGALIZE HOUSING: ALLOW MORE HOUSING AND A GREATER DIVERSITY OF HOUSING TYPES ACROSS ALL URBAN AREAS.
Recognizing that housing is often restricted at a local level, HB 1923 provides funding and incentives for localities to allow more housing, especially transit-oriented development, missing-middle housing and affordable housing. At our happy hour with Mercy Housing earlier this month, attendees all took a moment to call or email their Senators to support this bill: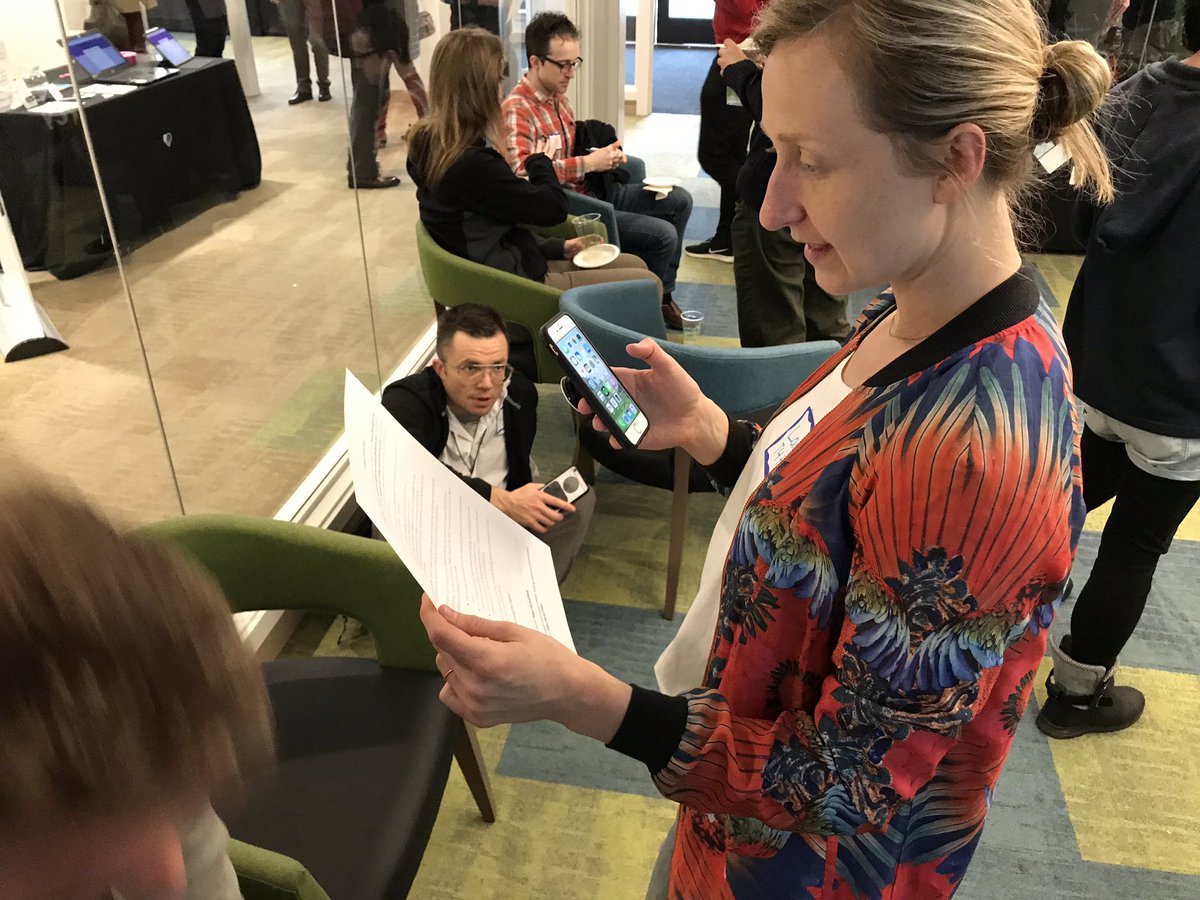 Attendees at a Tech 4 Housing happy hour calling or writing their State Senator to support HB 1923, which encourages cities to expand housing options. pic.twitter.com/XrrFQZrsl3
SB 5002 and 5334 reform our condo liability laws that had pushed virtually all new multifamily buildings towards rental housing. Going forward we should see more of a balance of ownership and rental options in new multifamily buildings, providing new paths to homeownership in urban neighborhoods.
SB 5383 legalizes tiny houses—small but permanent structures with electricity and plumbing—that had previously been in a legal grey area. Tech 4 Housing testified in support of the bill in Olympia.
INVEST IN AFFORDABILITY: INCREASE PUBLIC AND PRIVATE INVESTMENT IN LOW- AND MIDDLE-INCOME HOUSING AND TO REDUCE BARRIERS TO LOW- AND MIDDLE-INCOME HOUSING PRODUCTION.
In a major win for investments in affordable housing, the State's Housing Trust Fund received a $175M investment, up 75% from the previous biennial budget. This is Washington's primary funding source for affordable housing, and when leveraged with federal and local funding, should help produce almost 5,000 affordable homes.
HB 1406 allows local jurisdictions to fund affordable housing by retaining a small portion of the local sales tax revenue that would otherwise go to the State.
Thank you to everyone who filled out Tech 4 Housing's letter to elected officials supporting the Housing Trust Fund, and to everyone who followed our last minute call to support the use of sales tax revenue for affordable housing!
PROTECT VULNERABLE COMMUNITIES: PROTECT AND EMPOWER RENTERS, MARGINALIZED COMMUNITIES AND PEOPLE EXPERIENCING HOMELESSNESS.
SB 5600 increased the eviction notice time to 14 days, from the mere three days previously required, giving renters a much better chance at staying in their homes. The tech industry stepped up here, with an open letter from executives at big tech companies supporting the reform. Tech 4 Housing organized employees from the companies to reach out and thank the executives.
Of course, we didn't win on everything. Tech 4 Housing lobbied in support of extending the Multifamily Tax Exemption (MFTE), which would help retain thousands of middle-income rental properties that are aging out of the program. While it didn't happen this year, MFTE extension has a good chance of passing next year under new House leadership. And legalization of backyard cottages and basement apartments, which Tech 4 Housing also lobbied for, will continue as a key City of Seattle issue this summer.
In addition to everyone in the tech community who followed Tech 4 Housing's calls to action this legislative session, we would like to thank the Washington Low Income Housing Alliance and Futurewise for their help in keeping up with a busy legislative session. Without their analysis and calls to action, a small group like Tech 4 Housing would find it much harder to carry out effective advocacy. And, of course, we'll be sending thank yous to all of the legislators who championed housing reform this term, including Senators Pedersen, Palumbo, Kuderer and Zeiger, and Representatives Fitzgibbon, Frame, Robinson, Gregerson and Macri.
WHAT'S NEXT
With the legislative session over, Tech 4 Housing's advocacy efforts will turn back to the City of Seattle, where we're excited to push forward on affordable housing at Ft. Lawton and expanded backyard cottage and basement apartment opportunities.
Finally, please save the date for Tech 4 Housing's upcoming Affordable Housing Week events. On May 14 at People Powered Communities: How Individuals & Businesses Can Invest in Housing Affordability we'll hear from Microsoft about their $500M investment in housing and from Bellwether Housing about their upcoming crowdfunding campaign for affordable housing. Then on May 15 at Affordable Housing 101: Why is it so dang hard? we'll be on the Eastside talking with affordable housing providers and residents about the challenges of affordable housing.